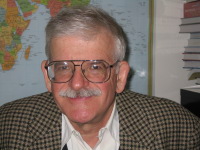 INTERNATIONALIZING THE PSYCHOLOGY CURRICULUM
During recent decades psychology has expanded throughout the world. At present there are probably more than 1 million psychologists of whom approximately 32% to 35% teach and practice in Europe, 25% to 28% in the USA, 20% in Latin America, and the rest in Asia, Australia, and Africa (Stevens & Gielen, 2007). The number of psychologists outside the USA is growing much faster than the number of psychologists inside the USA, a development which suggest that the post-World War II predominance of American psychology is now weakening. At the same time the rapid development of Internet technologies has made it possible to offer psychology courses in virtual space and across the globe. However, the psychology curricula offered in the USA and elsewhere in the western world tend not to reflect the global nature of modern psychology.
In my presentation I will introduce a number of perspectives on how one might go about internationalizing the psychology curriculum offered at the undergraduate and graduate levels. Pertinent examples include the introduction of long-distance instruction across cultural and national boundaries, strengthening the role of cross-cultural psychology in the curriculum, underlining the importance of indigenous psychologies and nonwestern perspectives, introducing interdisciplinary perspectives taken from fields such as anthropology, demography, medicine, and sociology, internationalizing the curriculum in specific content areas such as developmental, educational, family, industrial-organizational, social, political, abnormal, counseling, clinical, and health psychology, testing and assessment, psychology of women, gender roles and sexuality, the psychology of migration, and introducing global and cultural perspectives into history of psychology courses. Of special interest are recent efforts by both Western and non-Western psychologists to introduce psychosocial interventions in non-Western settings at the micro- and macro-levels because they can only succeed if cultural, religious, socioeconomic, and political factors are consistently taken into account (Gielen, Draguns, & Fish, 2008).
The presentation will include examples, suggestions, and a bibliography to specify in more detail how the project of internationalizing psychology and the psychology curriculum can be carried out. I conclude that although there exist many linguistic, cultural, economic, and political barriers hindering the development of a global psychology these can be overcome. Furthermore, I contend that the creation of a global consciousness within the field of psychology constitutes an ethical challenge that needs to be confronted if psychology is to play a constructive role in the emergence of a world culture in the 21st century.