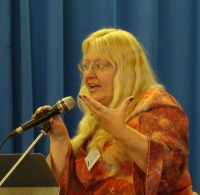 DEVELOPING AN INTERNATIONAL GRADUATE PROGRAM IN PROFESSIONAL PSYCHOLOGY: PROPOSALS, PROGRESS AND PITFALLS
Psychology texts continue to become more international in focus, and psychology students increasingly have "the world at their fingertips" through web-based media and resources. Immigration, internationalization, global cultural and economic exchange and media continue to shrink the planet, creating the need for multi-culturally aware and cross-culturally trained psychologists. Despite this, few institutions in the U.S. even offer courses in International Psychology and no institutions currently offer graduate programs in international psychology to prepare professional psychologists. To address this lack, Northern Arizona University-Yuma has begun to develop partnerships with institutions in other areas of the world and explore the possibility of offering a doctoral degree in international professional psychology. The ultimate goals of the program are to prepare multi-culturally aware psychologists with experience in more than one country and culture who are capable not only of practice, but of conducting necessary research in cross-cultural psychology, psychometrics and other needed areas. Because there is no precedent for such a program and the current political climate in public education tends toward isolationism, progress has been slow toward implementing such a program. Partnerships continue to be developed, however and progress continues. This presentation address the steps involved in creating international university partnerships to develop a graduate program in International Psychology. Each co-author summarize the process, challenges and potential advantages for their particular institutions in developing a collaboratively-taught Ph. D program to prepare bilingual, bicultural psychologists. Legal constraints, differences in licensure and accreditation requirements, varying tuition structures, differing curricula, language barriers, faculty participation and concerns, administrative hurdles and potential costs and benefits from the perspective of each university will be addressed.
In this paper Claudio Hutz summarize the curriculum, training and licensure requirements for psychologists in Brazil, provide an overview of psychology program evaluation and accreditation procedures there, and discuss his experiences with international program development.
Alfredo Padilla focuses on the current psychology curriculum in Mexico, the progress of the profession there, and the challenges and advantages of developing international programs within Mexico. He describes the various international programs currently in place and those being developed. He addresses political and economical challenges and advantages and describes psychology faculty and student involvement in events aimed at developing a more international approach to psychology education in Mexico.
Sherri McCarthy describes how her experiences have made her increasingly aware of the need for training psychologists with an understanding of international issues and practices, and the need for developing collaborative professional psychology programs co-taught by faculty and administrated by countries throughout the world. She shares a proposed model curriculum for such a program and describes the progress to date on developing a Ph.D. in International Professional Psychology. She also share her students' involvement in a variety of international service projects, conferences, speaker's forums and events, with information about how these experiences have enhanced their psychology education. In addition, Sherri provides a brief overview of psychology curriculum and requirements for licensure in professional psychology in the U.S., and contrasts this with curriculum and requirements in other countries.